Before you start packing you need to check the weather for where you'll be tent camping. Just because it's warm and sunny where you live, doesn't mean it is where you're going. So look at the weather app first.
Now that you know the weather, think about what you'll be doing. If you're just going to sit around the tent you can just bring comfy pants, shorts, t-shirts, a light jacket, and sandals for summer. If you're planning on hiking then you're going to want a good quality pair of pants that are tear-resistant, a t-shirt (preferably moisture wicking), hiking socks, and good boots. I really like the pants below because when you're back at camp, you can turn them back into shorts without having to change.
The above applies to kids, too. Make sure you pack things that will protect them, keep them comfortable, and are durable since they tend to do the most exploring. Also, make sure you take a picture of them after they get dressed each morning, just in case they wander off. This happened to us at an amusement park in Virginia with our then nine year old. Fortunately, he had just gone to the bathroom without telling anyone.

The North Face Women's Paramount 2.0 Convertible Pant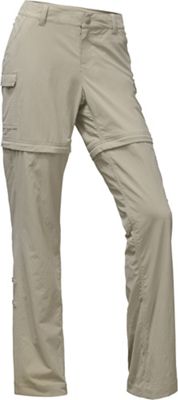 The North Face Women's Paramount 2.0 Convertible Pant

FEATURES of The North Face Women's Paramount 2.0 Convertible Pant 17 in. leg opening FlashDry-XD technology Ultraviolet Protection Factor 50 Zip-off legs convert to 6 in. short Roll-up pant legs with adjustable button-tab closure Front and back pockets Roomy front cargo patch pockets Internal passport pocket with Velcro closure Center front snap closure Internal two-tone waistband drawcord Tonal heat transfer logo on left cargo pocket

---
If you are new to hiking, I recommend talking to someone knowledgeable about hiking where you're headed. We have hiked in Virginia, Indiana, Mississippi, and Alabama (Mississippi and Alabama is more like a leisurely stroll where we go, except you have to watch out for gators, snakes, and spiders), it is different every where and requires different equipment.
You should always pack a light jacket and one pair of winter clothes for everyone, just in case the weather changes. Even if it's thermals to layer under clothing. If you pack sweat pants, sweat shirts, etc to sleep in then you'll have them if the weather changes. If you're camping in the Deep South in the summer, don't plan on sleeping in sweats. I made that mistake the first night we ever camped out and I was so miserable I barely slept. Not fun! So bring them, just don't wear them if it's hot in your tent.
The main thing to remember is comfortable shoes. My husband and I wear Sketchers Go Walks because they're comfortable, they breathe, and they're versatile. You can do light hiking, play around the campsite, etc without having to change out shoes. You don't want to wear sandals in the woods too much because of poison ivy/oak, thorns, sticks, bugs, snakes, etc. They're fine at a commercial campground where everything is pretty much paved.
Wear a light backpack to carry a survival knife, bottles of water, snacks, extra socks (in case your feet get wet), flashlight, emergency blanket, small first aid kit, baby wipes and diapers, fire starter of some kind, Para-cord is a wonderful thing, and a compass. So in case you get lost you'll be okay for a little while. Make sure your cell phone is in a waterproof bag or case. I recommend the one below for short distance hiking (no more than five miles at a time).

The North Face Women's Vault Backpack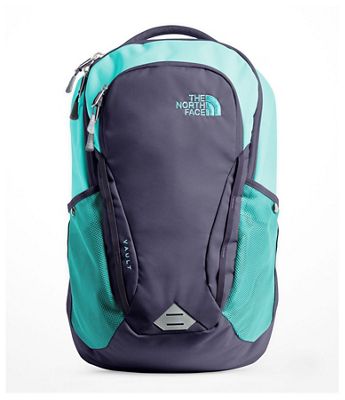 The North Face Women's Vault Backpack

FEATURES of The North Face Women's Vault Backpack Flexible yoke built from custom injection molded shoulder straps – an unbelievably comfortable padded mesh back panel and a highly breathable lumbar panel for maximum breathability all day long Women-specific shoulder straps are flexible so they contour to a wide range of women's body types Padded laptop sleeve in the main compartment protects your goods from bumps and falls Large main compartment for books and binders Front compartment with internal organization has an extra padded tablet sleeve – a pendolier and additional secure-zip pockets Reflective bike-light loop – water bottle tabs

---
Hats are also important. It will keep the sun out of your face and bugs out of your hair. My husband and I typically wear ball caps, but anything with a bill should be fine. If it's cold you will probably want something heavier. In summer, a cool towel helps more than you might be able to imagine.
Bring extra clothes for the kids that they can mess up in case it rains. Sometimes letting them run through the mud will bring you hours of peace. Thrift store clothes are awesome for this since they're typically cheap (we pay $1 or so for a shirt and a pair of pants). We make them wear the water shoes from Walmart for this activity and then just take them to the showers when they're done.
Bring a wet/dry bag with you for dirty clothes, too. You don't want your clothes to mildew setting in a trash bag.
Packing clothes for camping trip isn't a lot different from packing for a hotel, but you do have to plan for weather more. Check your weather app often before you head out and add/take away items as necessary. A lot of campgrounds have laundry facilities if you need them, too. Take some change with you just in case.
Thank you for stopping by and happy camping!